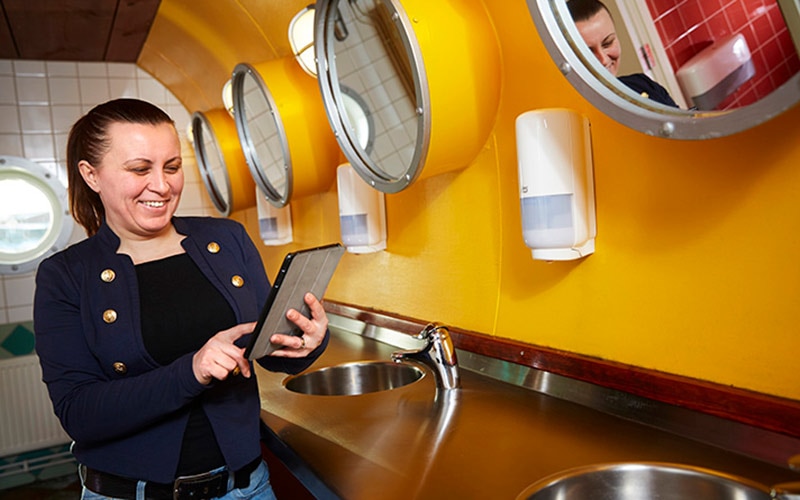 How roller coasters and intelligent washrooms make happy visitors
At Gröna Lund, amongst carousels and roller coasters, there are 80 washrooms that are just as frequently visited as any other attraction. "Washrooms are generally where we make our first and last impression, so they are very important for us" says Dragica Novacic, Park Support Manager.
Amusement parks always seek new attractions to entertain their visitors. Gröna Lund in central Stockholm has found a new treat – intelligent washrooms.
Customer surveys have identified washrooms as an increasingly important factor for visitors' overall perception. "Usually, the first thing a visitor does is to use the washroom. So, it is where we form our first impression. Therefore, good quality becomes very important for us." [Photo: Gröna Lund]
One day there can be 5,000 visitors and the next 20,000. Cleaning staff have to handle disruptive needs that vary on a daily basis through the park's 80 washrooms. "If the soap or paper have run out, we get truly annoyed visitors with a poor experience that will stay with them for the rest of the day."
Gröna Lund has implemented Tork EasyCube – a digital service that enables cleaners to address refill and cleaning needs before it is too late. "On one hand it gives us new instruments to ensure good quality. On the other hand it has boosted pride among our cleaners, or 'artists' as we call them." Tork EasyCube allows cleaners to assess where they need to go and exactly what to bring for the next round – making work less stressful and freeing up time."
"From being the 'oh no' task at the park we now have staff that are eager to work in the cleaning teams. It's clear how they improve our visitors' experience."
"From a situation where washrooms got remarks from visitors, we now score an all-time high on the customer satisfaction index."